Oregon Coast Hikes-It's All Here!
Right here in Pacific City, we have miles and miles of some of the most picturesque hikes you can find. The difficulty of the hikes ranges from easy to technical, there is something for everyone! This Blog Post will be a 2-part post; there are so many local hikes we are going to break them down a bit.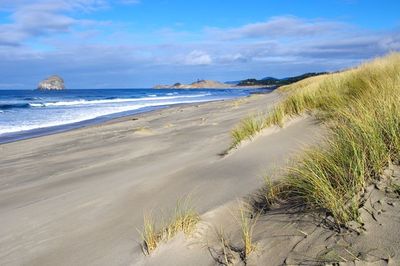 Cape Kiwanda sand dune is a fun family attraction. The dune is steep and stopping to take in the views and catch your breath is expected. If you want to explore more, there are scenic safe areas on either side of the dune you can adventure around. Please be advised that the Cape is made of sandstone and though it seems like stable rock, it can and HAS crumbled under pressure. Please heed the postings, stay safe and have fun!
Head south about a mile and a half from Cape Kiwanda and you will find Bob Straub State Park. Popular for horseback riding, there are 484 acres to explore. The park is bordered by the Pacific Ocean on one side and the Nestucca River on the east side, with trails that run between the two. Within Bob Straub State Park is the peaceful, Nestucca Spit- it is about a 6-7 mile loop (who doesn't love a hiking loop?) not heavily traveled, so you can be one with nature.
Just a little south of Pacific City is the Nestucca Bay Wildlife Refuge, with Two Rivers Nature Trail. There are a couple of options in the wildlife refuge, you can stroll up to the lookout and take in the view all the way back to Cape Kiwanda, or head down the trail towards the ocean. There are two different trails here, one that is mostly on a level dirt road, and another that ventures off more into the coastal forest. This spot has some nice restrooms, ample parking, and some wildlife informational signs- great for the whole family. Are you a bird watcher? This is a fabulous location for bird watching including osprey, sharp-shinned hawks, brown pelicans, and a large variety of ducks.
Want to hike all three Capes? Next up we have Cape Lookout, it is just 20 minutes up the road from Cape Kiwanda and absolutely worth the drive! As a matter of fact, you pass a few hikes on the way: Sitka Sedge State Natural Reserve, Clay Myers State Natural Area at Whalen Island, and Sand Lake Recreation Area are all hiking areas you will pass on the way to Cape Lookout. This hike is unique, in that the first half of the hike is really well maintained. It is easy walking, and absolutely magical! You can feel the difference in breathing in the air, it is classified as a coastal rainforest and you can feel it all around you as you walk through it. Lush green ferns, moss-covered trees, huge wild red mushrooms- it looks like an elven forest. Parking can be a little crowded in the summer, but the trail is long and you rarely pass other hikers.
Further North is Cape Mears. Here you will be able to explore over three miles of hiking trails, again something for the whole family. There is a walking trail that is only about a mile long, that gently winds through huge spruce trees. As a point of interest, the largest Sitka Spruce Tree in the state of Oregon can be found here! Cape Mears has other attractions as well, including a lighthouse from the 1890s that offers tours in the summertime. Also, summertime is the best time of year to spot resident whales, along with seals and sea lions at Cape Mears. It is worth the 40-minute drive north to explore this Oregon coastal wonder.
Pacific City is a special beachfront town, close to amazing hiking trails- where you can take in the rugged and majestic Oregon coast. Put on your hiking shoes and begin exploring. You could never hit all the trails in one stay, so we will look forward to having you back as guests again!
Book your next Oregon Coast Getaway with us today: