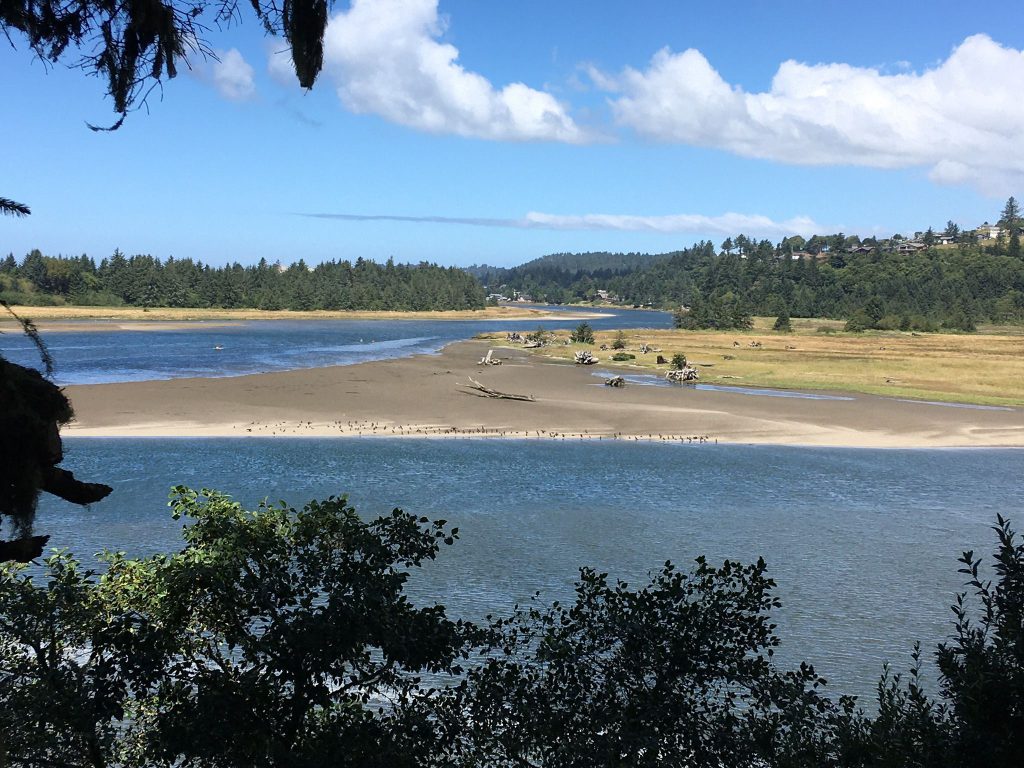 So, you're in Pacific City and looking to hit the trails? You're in luck! The Oregon Coast, particularly around Pacific City, is a hiker's paradise. From serene coastal walks to exhilarating cliffside routes, there's something here for every kind of adventurer.
Don't just settle for the usual touristy spots. Venture into the lush trails, get lost (figuratively, of course!) in the natural beauty, and explore the hidden corners of the Oregon Coast. With several hikes to choose from all near Pacific City, that also cater to all skill levels, you are spoiled for choice!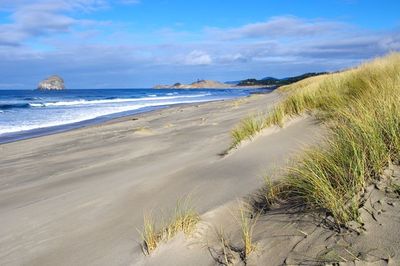 Cape Kiwanda
Cape Kiwanda sand dune is a fun family attraction. The dune is steep and stopping to take in the views and catch your breath is expected. If you want to explore more, there are scenic safe areas on either side of the dune you can adventure around. Please be advised that the Cape is made of sandstone and though it seems like stable rock, it can and HAS crumbled under pressure. Please heed the postings, stay safe and have fun!
Bob Straub State Park
Head south about a mile and a half from Cape Kiwanda and you will find Bob Straub State Park. Popular for horseback riding, there are 484 acres to explore. The park is bordered by the Pacific Ocean on one side and the Nestucca River on the east side, with trails that run between the two. Within Bob Straub State Park is the peaceful Nestucca Spit. It is about a 6-7 mile loop not heavily traveled, so you feel truly immersed in nature.
If you're planning to bring your four-legged friend, don't forget a dog leash! The trail is moderately challenging and typically takes around 29 minutes for the average hiker to complete. But hey, no rush! It's also a favorite for those who prefer a leisurely pace to soak in the natural beauty.
Two Rivers Nature Trail
Just a little south of Pacific City is the Nestucca Bay Wildlife Refuge, with Two Rivers Nature Trail. There are a couple of options in the wildlife refuge, you can stroll up to the lookout and take in the view all the way back to Cape Kiwanda, or head down the trail towards the ocean. There are two different trails here, one that is mostly on a level dirt road, and another that ventures off more into the coastal forest.
This spot has some nice restrooms, ample parking, and some wildlife informational signs- great for the whole family. Are you a bird watcher? This is a fabulous location for bird watching including osprey, sharp-shinned hawks, brown pelicans, and a large variety of ducks.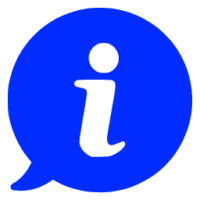 Did you Know?
The trails near Pacific City cross lands that were historically inhabited by the Nestugga Native American Tribe. Keep an eye out for interpretive signs that delve into the rich history of the area.
Sitka Sedge Park
Discover the newest addition to Oregon's parks: Sitka Sedge State Natural Reserve. This easy-to-navigate trail offers a journey through a lush forest landscape and along the breathtaking Sandlake Estuary. You can find the parking lot just a short drive north of Cape Kiwanda, via Cape Kiwanda Drive, also known as Sandlake Road.
As you wander the trail, you're in for a wildlife spectacle. The area boasts a variety of bird species, from majestic Bald eagles and Ospreys to elegant Great blue herons and Red-tailed hawks.
However, the skies aren't the only place teeming with life; keep your eyes on the ground to possibly catch a glimpse of elk, white-tailed deer, or black-tailed deer. This trail is more than a hike, it's an experience rich with Oregon's natural beauty.
Cape Lookout
Want to hike all three Capes? Next up we have Cape Lookout, it is just 20 minutes up the road from Cape Kiwanda and absolutely worth the drive!
This hike is unique, in that the first half of the hike is really well maintained. It is easy walking, and absolutely magical! You can feel the difference in breathing in the air, it is classified as a coastal rainforest and you can feel it all around you as you walk through it. Lush green ferns, moss-covered trees, huge wild red mushrooms- it looks like an elven forest.
Amenities like benches, picnic spots, and restrooms make your visit all the more comfortable. While you're here, keep your eyes peeled for Oregon's captivating marine life—including whales, seals, and porpoises. So, make sure those binoculars are in your pack! Embark on this trail to revel in stunning coastal vistas and uncover the area's natural wonders.
Parking can be a little crowded in the summer, but the trail is long and you rarely pass other hikers.
Cape Meares
Further North is Cape Meares. Here you will be able to explore over three miles of hiking trails, again something for the whole family. There is a walking trail that is only about a mile long, that gently winds through huge spruce trees. As a point of interest, the largest Sitka Spruce Tree in the state of Oregon can be found here! Cape Mears has other attractions as well, including a lighthouse from the 1890s that offers tours in the summertime.
Also, summertime is the best time of year to spot resident whales, along with seals and sea lions at Cape Meares. It is worth the 40-minute drive north to explore this Oregon coastal wonder.
Cascade Head
Situated about 17 miles south of Pacific City, you'll find Cascade Head, an impressive 270-acre headland that's been honored as a UNESCO biosphere reserve. This ecological wonder is a sanctuary for a broad array of flora and fauna, making it a microcosm of Oregon's natural beauty. While the area can attract crowds, particularly during peak seasons, it's well worth the visit.
The Cascade Head Trail stretches for 6 miles and offers an unforgettable hiking experience. As you navigate through the trail, you'll be met with panoramic vistas that are simply breathtaking—providing the perfect backdrop for an exhilarating day in nature.
Munson Creek Falls Trail
Nestled just off Highway 101 on the way to Tillamook, Munson Creek Falls awaits. This magnificent, multi-tiered waterfall boasts a stunning 319-foot drop. A brief half-mile trek through an enchanting old-growth forest rewards you with awe-inspiring vistas from a vantage point 100 feet higher than your starting spot. For anyone captivated by Oregon's natural beauty, Munson Creek Falls is an essential visit.
Whalen Island
Just 5 miles north of Cape Kiwanda lies a hidden gem: Whalen Island, part of the Clay Myers State Natural Area. As Oregon's second-largest island, it's a vibrant ecosystem you won't want to miss. Nestled within this diverse area, the island is home to a wide array of wildlife, including various bird species, animals, and unique flora.
The 1.5-mile loop around the Clay Myers State Natural Area offers stunning views of Whalen Island and takes you through an eclectic mix of landscapes—from grasslands and forests to beaches and mudflats. Make sure to bring your binoculars to fully appreciate the island's abundant wildlife and natural beauty!
Put on Your Hiking Shoes and Begin Exploring!
Pacific City is a special beachfront town, close to amazing hiking trails- where you can take in the rugged and majestic Oregon coast. Ensure your accommodations match the awe-inspiring locales you'll be exploring. Opt for an oceanfront or ocean-view vacation rental in or near Pacific City. That way, you can fully soak in the unparalleled beauty of Oregon's coastline and its remarkable hiking trails!
You could never hit all the trails in one stay, so we will look forward to having you back as guests again!