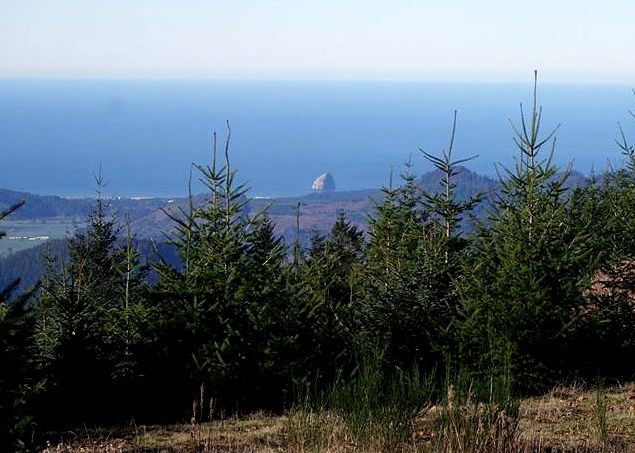 If you are looking for a day out that combines sweeping Pacific Ocean views, military history, winter sledding, and volcanoes, Mount Hebo is perhaps the only place in Oregon to go.
Unlike most of our coastal attractions, Mount Hebo is best enjoyed outside of the summer months on a clear day. While a summer visit to Mt. Hebo is still very pleasant, the risk of coastal fog reduces the view possibilities from the 3,000 ft summit. As you awaken in one of our rental houses, check for clouds to the west and east. If possible, check the Portland or McMinnville weather forecast for clear skies as well. If all is clear, then you are going to enjoy epic views of the Oregon Coast and the Cascade Range.
Because Mt. Hebo hosted an Air Force Radar Station from 1956 until 1980, there is a paved road that takes you to the top of this impressive mountain. From Pacific City, follow Brooten Road to Highway 101 and turn left (north). After a scenic 10-minute drive winding through the Nestucca Valley with its historic dairy farms, you will be in Hebo. Once in Hebo, turn right on Highway 22 towards McMinnville and then turn left on Mt. Hebo Road. This road takes you through US Forest Land to the Mt. Hebo summit.
The forest clears once you get to the summit and you will find plenty of parking. Read the informative sign about the history of the Radar Station and imagine what it might have been like to have lived and served up here. As you walk to the west, you will see Haystack Rock and the Pacific Ocean appear.
From the westernmost point of the summit, you can enjoy a 100-mile wide Pacific Ocean panorama extending from Cape Foulweather in the south to Neahkahnie and Saddle Mountain in the north.
If you can turn your back on this view and head back towards your vehicle, you will then be treated to views of the Cascade Range. Mount St. Helens is the easiest volcano to see from Mt. Hebo- however, on the very clearest of days, you will also be able to see Mount Rainier, Mount Adams, Mount Hood, and Mount Jefferson. The below picture shows Mount St. Helens in the middle, with Mt. Rainier visible to the left and Mt. Adams visible to the right. In the picture, Rainier and Adams appear to be little more than white smudges- however, in person, this view is far more distinct.
After returning to your vehicle and heading back down the mountain, you might consider stopping at one of the turn-offs to admire the Douglas fir and Sitka spruce trees. There are several signs that provide the visitor with information about this forest. You could also stop at Hebo Lake and take a quick hike around it.
Once you return to Hebo, you can turn left and head back to Pacific City, or you could turn right and head north to Tillamook. Tillamook has several points of interest that are worth a visit, from the well-known Tillamook Cheese Factory to the fascinating Tillamook County Pioneer Museum.
Other things to do around Mt Hebo
Hiking- Mt. Hebo offers many hiking opportunities. There are several trails that lead through forestland. You can also park your car near the bottom of the mountain and hike the road to the summit.
Fishing- Hebo Lake is stocked with trout. In the spring Oregon's Department of Fish & Wildlife put on a "Free Fishing Day" for kids. Catching a fish is almost guaranteed!
Winter Sports- The summit of Mt. Hebo is often covered with deep snow in the winter. Snow may also fall at lower elevations on the mountain. If it is below 50 degrees F and wet in Pacific City, most likely it is snowing on Mt. Hebo. Talk to locals to find out more about snow conditions. The road to Mt. Hebo is not plowed, gritted, or salted, so use extreme caution if you choose to drive up the mountain in winter conditions. All-wheel drive, traction tires, and chains are all recommended. Excellent sledding, cross-country skiing, and snowshoeing opportunities are all there for the taking if you are adventurous.