"The ocean stirs the heart, inspires the imagination, and brings eternal joy to the soul."

– Wyland
Oregon's coast is dotted with quaint coastal towns and hidden gems, but none quite like the Neskowin. Nestled on the coast between Pacific City and Lincoln City, this small town packs a big punch, especially when it comes to Neskowin vacation rentals. With a stunning beach, unique natural wonders, delicious restaurants, and charming shops, Neskowin should be top of the to-visit list for anyone traveling along the Oregon coast.
Neskowin Beach
The beach is undoubtedly one of Neskowin's biggest draws, its unique natural beauty is what sets it apart from other Oregon beaches. First on the list is the Ghost Forest, a beautiful phenomenon of nature. Proposal Rock is another natural attraction in Neskowin. This towering rock is beautiful to admire from the beach and has become popular for some unorthodox hiking during low tide, when the water recedes behind the rock. If you have the courage, the view from the top is well worth it!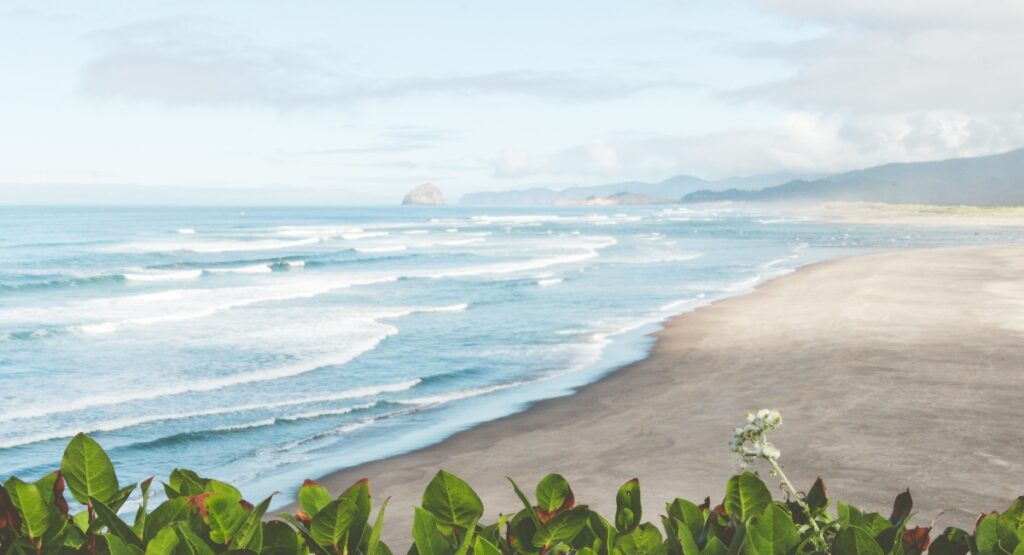 Additionally, no trip to Neskowin would be complete without a visit to the Neskowin Ghost Forest. This natural wonder is the remnants of a forest that was once buried under sediment and is now visible during low tide. The ghostly tree stumps make for an eerie but beautiful sight that's not to be missed.
Hiking in Neskowin
Looking to get in some serious exercise along with some spectacular views? Don't fret, as Neskowin has plenty of hiking trails to explore. Starting with the Cascade Head Trail, a 6.2-mile hike that takes you through lush forests and offers stunning views of the coast. The trailhead is just a short drive from Neskowin, and the hike is well worth it. Another great option is the Neskowin Marsh Trail, a short and easy hike that takes you through a beautiful marsh ecosystem.
Restaurants Near Neskowin
After a long day at the beach or on the trails, Neskowin has some excellent places to tickle your tastebuds. If it's a hot day, the Village Scoop has you covered with assorted flavors of fresh Tillamook ice cream, served from a cozy food truck. If you're looking for something a little more filling, then you have a couple of good options.
The first is Hawk Creek Cafe, this is a popular option and for good reason too. The menu is expansive, with traditional American, to a healthy selection of seafood. One of the most beloved aspects of the Hawk Creek Cafe is its scrumptious selection of wood-fired pizzas.
Shopping in Neskowin
If you're looking to pick up some hand-made souvenirs, or a unique piece of jewelry for you or someone special, pop down to Neskowin's charming local shops. Starting with the Neskowin Trading Company, which has a fantastic selection of Oregon-made products, including handcrafted pottery, jewelry, and clothing. Forget to pack your bathing suit? Don't worry, as the store also has a great selection of beach gear. Stock up on everything you need for a day at the beach.
Another must-visit shop is the Hawk Creek Gallery, which features the work of local artists and photographers. You're sure to find something beautiful to take home as a memento of your trip to Neskowin. Hawk Creek Gallery is only open to the public from April through October.
Weather in Neskowin 
Ah, the weather. We all know how unpredictable and ever-changing it can be, and Neskowin is no exception. Being on the Oregon coast, Neskowin is known for its mild, temperate climate with occasional rain showers. But don't let the rain discourage you from planning a trip here—it's part of the charm!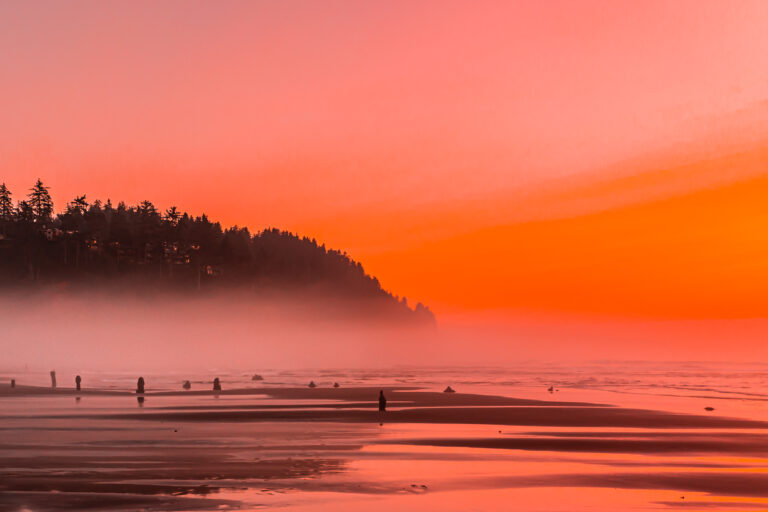 Summer is the most popular time to visit Neskowin, with average temperatures ranging from the mid 60s to 70s Fahrenheit. This is a great time to enjoy the beach, go hiking, and explore the town. However, be sure to pack a sweater for those cooler temperatures at night, as well as some foggy mornings.
Fall is a wonderful time to visit Neskowin, with fewer crowds and the changing colors of the foliage making for a stunning backdrop. Temperatures start to dip into the mid-50s and 60s, so bring a jacket for those chilly evenings.
Winter is the quietest season in Neskowin, with average temperatures ranging from the mid-40s to the mid-50s. While it may be rainy and windy at times, this is a great time to cozy up in front of the fire with a movie. Even enjoy some indoor activities like wine tasting or exploring local galleries.
Spring brings warmer weather and the blooming of wildflowers. Temperatures range from the mid-50s to the mid-60s, making it a great time to enjoy outdoor activities and explore the local flora and fauna.
No matter the season, Neskowin has something special to offer. Just remember to bring layers and waterproof gear, and you'll be prepared for whatever Mother Nature has in store. 
Neskowin Vacation Rentals
Looking for a vacation rental that offers stunning ocean views, a hot tub, and direct beach access? Look no further than Neskowin North Home! Tucked away in a quiet, gated cul-de-sac, this cozy bungalow offers ocean views from almost every room. The modern kitchen is fully stocked with upgraded finishes, new appliances for your cooking needs, and a fun breakfast bar.
The living room is perfect for snuggling up with a good book or enjoying the warmth of the wood stove, while also taking in the panoramic views of the Pacific Ocean. Step outside onto the oceanfront deck and soak in the hot tub to let your worries melt away.
With its comfortable furnishings, selection of books and games, plus a Tesla charger in the garage, Neskowin North Home is the perfect place to unwind and recharge.
In this vacation rental you'll find three bedrooms – the primary bedroom offering stunning ocean views and a full bathroom with a soaking tub. The second bedroom boasts a cozy queen bed, and the third bedroom has a queen bed and a set of bunks, perfect for families. There is also a full hall bath with a shower.
Located in the desirable Neskowin North neighborhood, this home provides direct, low-bank beach access to miles of unpopulated beaches. So if you're a wildlife enthusiast or just love being in nature, Neskowin is the place to be! Keep your eyes peeled for bald eagles, elk, and even whales who may make an appearance during your stay.
So on your next trip to the Oregon Coast, don't forget about Neskowin, a true hidden gem that's well worth the visit any time of the year. From its beautiful beaches and hiking trails to its charming restaurants and local wildlife, there's something for everyone to enjoy. No matter the time of year, book yourself into a cozy ocean-view home, and embrace all this charming, quaint town has to offer.
A Few Common Questions About Traveling to Neskowin and The Oregon Coast:
1. What is the best time of year to visit Neskowin?
 The best time to visit Neskowin is during the summer months, when the weather is warm and sunny. However, keep in mind that this is also the busiest time of year, so expect crowds and higher prices. Spring and fall are also great times to visit if you're looking for fewer crowds and lower prices, but the weather may be cooler and rainier.
2. What are some must-see attractions in Neskowin?
Some must-see attractions in Neskowin include the ghost forest at low tide, Proposal Rock, and the quiet and secluded beaches. You can also go hiking in the nearby Cascade Head Scenic Research Area, explore the nearby towns of Pacific City and Lincoln City, or go whale watching.
3. What should I pack for a trip to Neskowin and the Oregon coast? 
Be sure to pack layers, as the weather can be unpredictable, especially near the coast. Bring warm clothes and rain gear for the cooler months, and lighter clothes and sunscreen for the warmer months. Comfortable shoes are a must for hiking and beachcombing, and don't forget your camera to capture all the amazing scenery!