Nestucca River Chinook Salmon & Steelhead Fishing
Pacific City has some of the best fishing around!
Spring Steelhead & Chinook
Highly prized Steelhead & Chinook Salmon will soon make their run on the Nestucca River that runs into the ocean near Pacific City. We will typically see about several hundred fish per year, with the best Steelhead usually caught between March & April, and the Chinook Salmon best in May & June.
According to local sources, winter steelhead will soon begin their arrival into Oregon's coastal rivers, meaning it will be time for anglers to begin targeting the sea-run rainbow trout.
Spring chinook smolts are released in the spring near Farmer Creek, also from Three Rivers at the hatchery. Fishing is said to be best from Beaver down into Pacific City in late Spring. There is nothing more exciting than reeling in a 40-pound Chinook!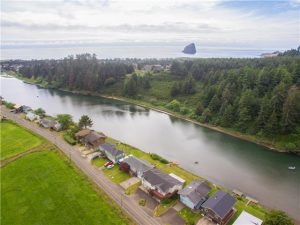 The Nestucca River has a healthy population of steelhead, Chinook salmon, and cutthroat trout. It flows through southern Tillamook County and enters the ocean at Pacific City. The Nestucca is one of the best places on the north coast to land winter steelhead over 20 pounds, and Chinook Salmon can reach 50 pounds or more!
There are some amazing local fishing guides to help you find the best local fishing spots. Travis at Adrift Angling in Pacific City professionally guides fishermen along the Nestucca River. All you need is your fishing license and he will help you bring home fresh-caught dinner! Sometimes, you can even drop crab pots along the way and bring home some yummy fresh Dungeness! 503-929-6847 adriftangling@gmail.com.
If the river is calling you, this is a great time to reserve a property with us. Check out this cozy Nestucca Riverfront home in Pacific City, #102 – Just Ducky! Front row action to the Nestucca River fishing, also a lovely, calming waterfront view near the beach but secluded and peaceful.
We also have some oceanfront homes available, so you can winter storm watch if we have a stormy day or watch the sunset over the ocean on a calm clear day. Either way, you won't be disappointed. Bring the family, and do some beachcombing, fishing, and relaxing. We look forward to seeing you soon!