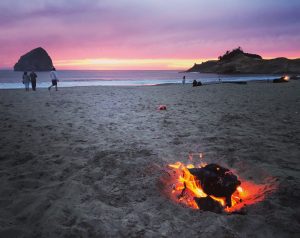 Pacific City is off the beaten path, and still a bit of a secret compared to some of our neighboring coastal towns. With a population that hovers around 1000 and two main roads through town, you wouldn't expect so many unique and delicious dining opportunities!
Breakfast:
Our most well-known breakfast spot is hands down The Grateful Bread Bakery, from Baker's website: "We offer an assortment of fresh-baked bread and pastries made from simple and wholesome ingredients. Many of Grateful Bread Bakery's most popular items are the original recipes from 20 years ago, yet, the owner Robyn Barcroft and her staff continue to add new items on a regular basis. Customer favorites also include our delicious and fluffy scones. We have a variety of fruit-filled scones and savory scones that are sure to please any craving, but the regular crowd-pleasers include the Cherry Almond, Marionberry, Chocolate Hazelnut, Apricot Cream Cheese, and the Lemon- raspberry. The list of our delicious treats goes on and on. Our other bakery specialties include our gigantic and addicting cookies!" They also offer amazing breakfast and lunch items, with salads that are out of this world.
If you are staying closer to Cape Kiwanda and want to walk to breakfast and grab a great cup of coffee, check out Stimulus Coffee + Bakery: "Stop in anytime for a light breakfast or lunch, a sweet treat, or another cup of Joe. Our coffee is rich, Oregon-roasted, and flowing all the way to 6 pm. Spread out in our airy sunroom, with a few friends or a good thick book. Watch through the big bakery window as we create homemade bread and our signature Beach Buns. Choose from among our fresh-baked pastries (this is the hard part), grab a window seat, and stare out at the ocean."
This next option is really one of our favorite lunch spots, but they also serve a KILLER breakfast burrito and in walking distance from Cape Kiwanda- Ben & Jeff's Taco & Burgers Restaurant: "Serving Burgers, Tacos, Burritos, Fish & Chips, Breakfast Burritos. Beer ON TAP & Other Refreshments and lots more!
Monday, Wednesday thru Friday: 11 am to 5 pm. Saturday and Sunday: 9 am to 5 pm. Saturday and Sunday we are open at 9 for breakfast burritos & Bloody Mary's. Just steps from the beach in Pacific City Oregon."
Want breakfast for dinner? Our local Village Coffee Shop offers: "Home of the Giant Chicken Fried Steak! Hamburgers, espresso, clam chowder, steak, and eggs are all sold at this coffee shop. Enjoy a meal any time of day – breakfast is served all day long!"
The best donuts in town are hands down at Megpies Bakery and Café: They also offer freshly brewed coffee, specialty coffees, full breakfast, and other menu items as well.
Lunch & Dinner: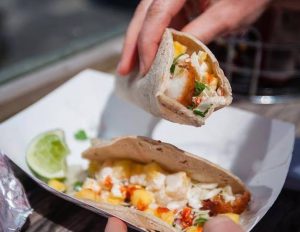 There are a lot of options for Lunch & Dinner in Pacific City, as we already mentioned for breakfast burritos, Ben & Jeff's Taco & Burgers Restaurant: has an amazing lunch menu! Casual and kid-friendly, sandy toes are expected!
If you want more options and an iconic experience, walk across the street to Pelican Brewing Company: "The only beachfront brewpub in the Pacific Northwest, this inviting establishment welcomes guests with tantalizing beer cuisine, intimate brewery tours, and, arguably, the most incredible beach patio experience around. Gaze in awe at Oregon's largest Haystack Rock. Watch the surfers. See the sunset."
A favorite super kid-friendly option for lunch or dinner is Doryland Pizza: "Doryland also offers a fresh salad bar, great sandwiches, pasta, clam chowder in a sourdough bowl, and 12 rotating draft beers and wine.  The adults can enjoy big-screen sports while the kids play a variety of new video games."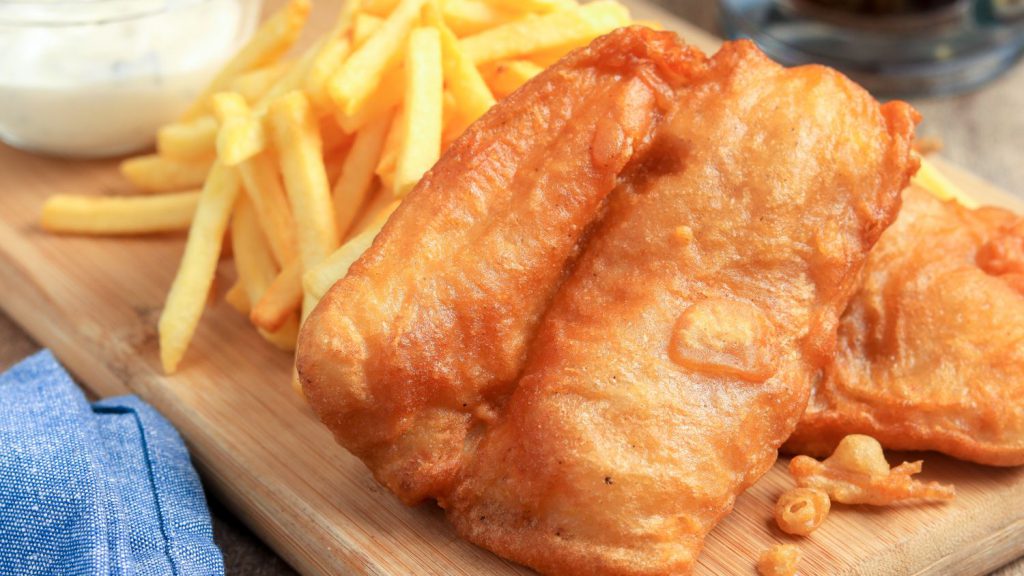 Fish and Chips is an Oregon Coast favorite, and we think the best in town can be found at Sportman's Pub-n-Grub: "PC Dory Caught Fresh Fish, Netarts Bay Oysters, Grill Burgers, Pizza, and Mexican Food- Come join the fun and bump elbows with the locals."
Are you craving something unique, maybe a fusion of flavors? We have a gem here in Pacific City! Right before you head over the bridge is Beach Wok Asian Food: "We are a small "mom and pop" business with a big desire to enhance our wonderful beach community by offering another option of food style. Each of our dishes are "INSPIRED" by various cuisines of different Asian countries. One thing I learned from my Vietnamese Mama is that "there is NO one way to make an Asian dish" We take Inspiration from those cuisines and then put our own spin on our dishes. We offer Gluten-Free, Vegan, and Vegetarian Options. We use NO MSG, NO PEANUT OIL, AND ONLY VEGETABLE STOCK. Our style of cooking is to use fresh ingredients, and fresh vegetables, we make our own sauces and cook in individual Woks. Our Kitchen is Small and our Hearts are Big!"
Mexican Food and Margaritas? Yes, we have that here in Pacific City! Check out Los Caporales for authentic Mexican food, a friendly atmosphere, and excellent service! Check out their Facebook page for super affordable specials.
Another local restaurant with great outdoor seating and views of the beautiful Nestucca River is The Oar House Bar & Grill: Burgers, Seafood, Pasta, Steaks, and More! Voted one of the top 10 Burger Destinations on the North Coast!
Just across the street from the Oar House is The River House, sitting right on the Nestucca River with amazing views and even more amazing food! Want an affordable fine dining experience, with locally caught fish? The River House offers lunch, afternoon, and dinner menus -make a reservation you won't be disappointed.
Last, but certainly not least is the Meridian Restaurant & Bar: "Tuck into the catch of the day and dishes sourced from Northwest farms and purveyors at Meridian. Exposed beams, Oregon hardwoods, and sky-high windows create a stylish but relaxed dining experience. Join us for breakfast, lunch, or dinner, or call us to arrange a private event."
Wine Bar:
Pacific City even has its very own wine bar! Twist Wine Company– One of our favorite gathering places, come join us for a glass of wine and great conversation.