Not even 20 minutes up the road from Pacific City, is the second of the Three Capes Scenic Route- Cape Lookout. With 3 different marked hiking trails to choose from, it is a popular coastal hiking destination.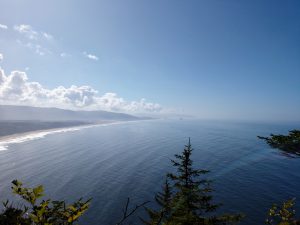 The most popular (and sometimes crowded) hiking trail is the Cape Lookout Trail: it is considered the best spot on the coast for watching the Gray Whale Migration, which occurs in the fall and spring each year. We were able to spot whales at the end of the trailhead in late March, making their way around the peninsula- it was a delightful shared experience with fellow hikers! Others have spotted sea lions, seals, seabirds, as well as dolphins and Orcas from this unique location.
The Cape Trail is a lush 5 miles round trip hike and is considered of moderate difficulty, family-friendly and dogs are welcome on a leash.

Next up is the South Trail at Cape Lookout a 3.5 miles out and back trail, ending on a pristine secluded beach, with a beautiful view of the Pacific Ocean and Cape Lookout. Rated as an easy hike, keep in mind it has switchbacks down the hillside, and you have to hike back up!
Bring a backpack lunch, and enjoy some time beachcombing- this beach is known for being a good place to find the increasingly rare glass floats. The South Trail hike is less crowded than the Cape Lookout Trail, is family-friendly, and dogs are welcome on a leash.
If you want to stay in a vacation rental close to these hiking trails, we have some unique options ranging from beachfront, to just a block or two away- check out our vacation rental options in the nearby neighborhood of Tierra Del Mar.
The third hiking trail option is the North Trail at Cape Lookout- and is our final spotlight on hiking on this unique coastal trail.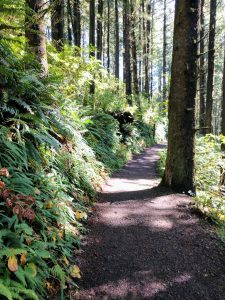 North Trail is also an out and back hike but is the longest trail at close to 10 miles long. It is considered to be moderately difficult, still family-friendly and dogs are welcome on a leash. There are amazing vista points, a unique suspension bridge, and waterfalls along the way. The North Trail is the least traveled of the three but also offers the possibility of spotting grey whales during their seasonal migration up and down the coast.
Contact us today to reserve your vacation rental in Pacific City, or closer to Cape Lookout in Tierra Del Mar, we look forward to hosting you!