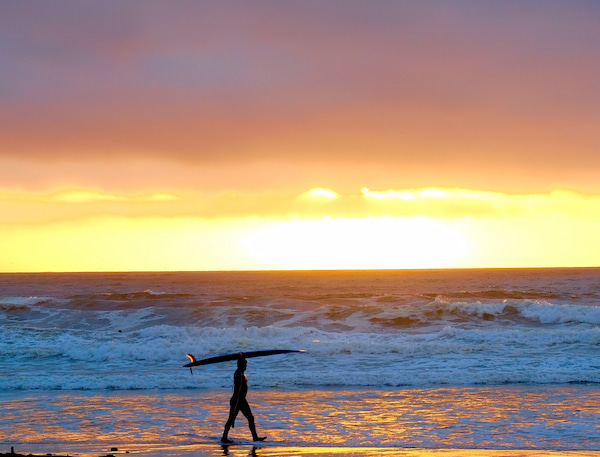 Pacific City: A Surfer's Paradise
Immerse yourself in the rhythmic pulse of the Pacific Ocean, the dramatic coastal scenery, and the playful dance of surfers conquering the wild waves. Welcome to Pacific City, Oregon, the hidden gem of the West Coast, aptly named "A Surfer's Paradise". As you traverse the dynamic landscape, it's not unusual to find your thoughts tuning into the melodic hum of the sea, a testament to the town's hypnotic coastal charm.
The ethereal beauty of Pacific City is not confined to its breathtaking vistas and unparalleled surf; it extends into the community that brings warmth to the place, a community founded on the love for the ocean and all the adventure it promises. Whether you are a seasoned surfer or someone seeking solace by the sea, Pacific City invites you into its world with open arms.
For those longing for a true taste of the Pacific City experience, Oregon Coast Vacation Rentals offer an array of spectacular homes, each providing an intimate, immersive encounter with the raw, untamed beauty of this coastal haven. From the minute you step onto the deck of your beachfront rental, the salty sea air, the rhythmic lullaby of the waves, and the silhouette of surfers at dawn will make you feel right at home.
Read on as we delve into the enchanting world of Pacific City, exploring everything from its famous surf spots to the rich cultural experiences it offers, promising a vacation that is as exciting as it is tranquil. Whether you are a seasoned surf enthusiast or a novice eager to experience the thrill, Pacific City is a destination that will have you falling in love with the magic of the Oregon Coast.
Pacific City's Best Surf Spots
There is a reason Pacific City is known as a surfer's paradise, with a wide range of surf spots to choose from, you have your pick of the bunch to go and catch a wave. Whether you're a surf pro, picking up an old hobby or brand new to the salty waters, there's a surf spot in Pacific City to suit you. Here are some of our top picks;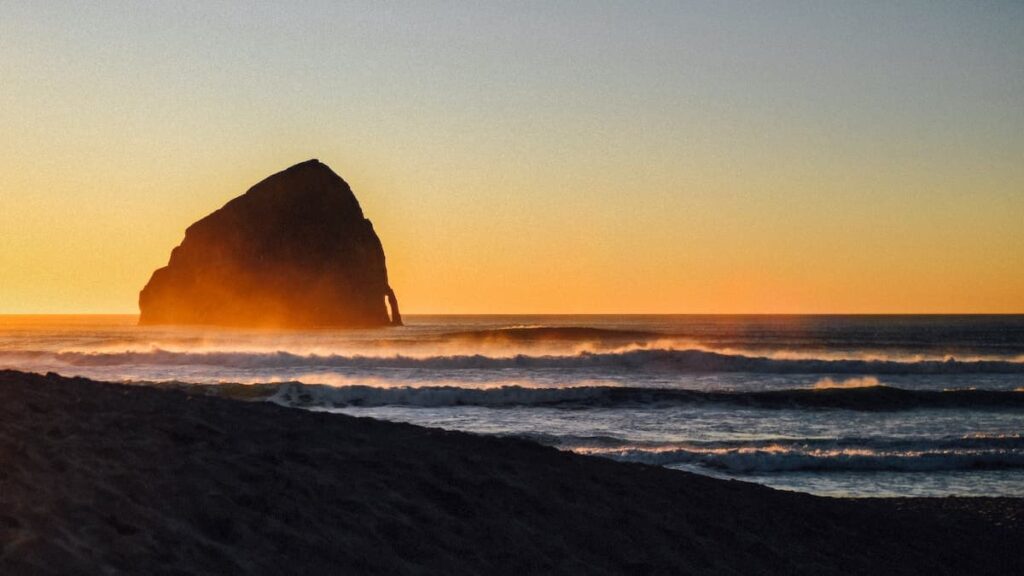 Cape Kiwanda
Undoubtedly, the most popular spot in Pacific City is Cape Kiwanda. It offers consistent, reliable waves year-round. Depending on the day and swell, you'll find a mix of beach and reef breaks here, with the sandy bottom making for safer conditions. The surf is suitable for all levels, with different sections of the beach offering varying difficulty.
The north end generally offers smaller, more manageable waves, perfect for beginners and intermediates, while the southern section caters to more experienced surfers with larger, more powerful waves. Cape Kiwanda works best with a west to northwest swell and is known for its reliable surf throughout the year. Autumn and winter often bring the best conditions, with larger swells and off-shore winds creating clean, well-formed waves. During summer, the waves tend to be smaller and more suited to beginners or those looking for a relaxed surf session.
One of the most notable aspects of Cape Kiwanda is the stunning Haystack Rock, an iconic landmark that creates a dramatic backdrop to your surf session. But, it's not just the surf that makes Cape Kiwanda stand out. The area also boasts beautiful sandy beaches, vibrant dune formations, and a welcoming surf community that adds to the overall appeal.
Despite its popularity, Cape Kiwanda's wide beach can handle a large number of surfers without feeling overcrowded. Still, it's important to respect the local surf etiquette and always be aware of your surroundings, especially during busier times. So whether you're a pro or a beginner, Cape Kiwanda caters to all surfing levels making it a safe bet to visit when visiting. Check out Moments Surf. Co, located right beside Cape Kiwanda, for all your surf rental needs.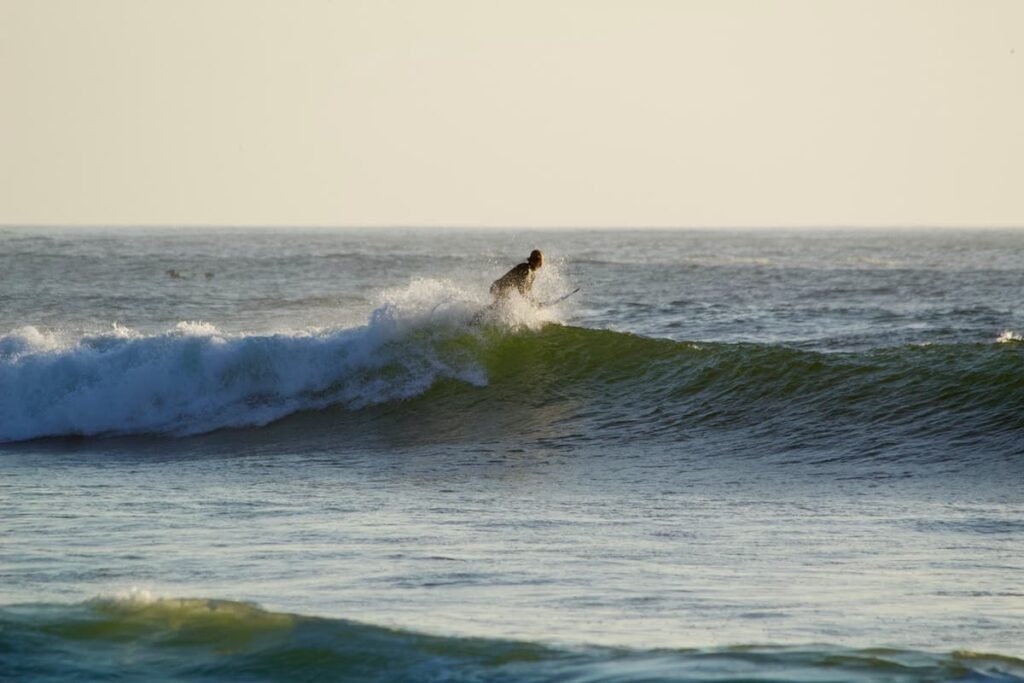 Gas Chambers
Gas Chambers surf spot, situated just north of Cape Kiwanda, is reserved for the experienced surfers. Named for its hollow, tube-like waves that can "gas" or rapidly envelop a surfer, Gas Chambers offers thrill and excitement that attracts seasoned wave riders eager to experience an intense ride. This spot works best on a medium to high tide with a northwest swell. Gas Chambers isn't a spot for the faint-hearted or inexperienced, but for advanced surfers seeking adrenaline, it's a dream.
One thing to note is that this spot can have strong currents, and the combination of powerful waves and rocky conditions can make it challenging and potentially hazardous. Therefore, it's recommended for experienced surfers who are comfortable in bigger waves and can handle challenging conditions. Due to the intensity of the waves, Gas Chambers is less crowded than some of the other surf spots around Pacific City, like Cape Kiwanda. However, those who venture here are often very skilled surfers, so beginners may feel out of their depth.
Tierra Del Mar
A quieter alternative to Cape Kiwanda, Tierra Del Mar is situated a few miles north. It's a beach break that works best with a west to northwest swell. The waves here tend to be mellower than Cape Kiwanda, have a smaller swell and less crowded, making it ideal for beginners or intermediates looking to avoid the crowds and hone their skills. Having that extra room in the water without the crowds and calmer waves will give beginners that space to practice and gain confidence on their board.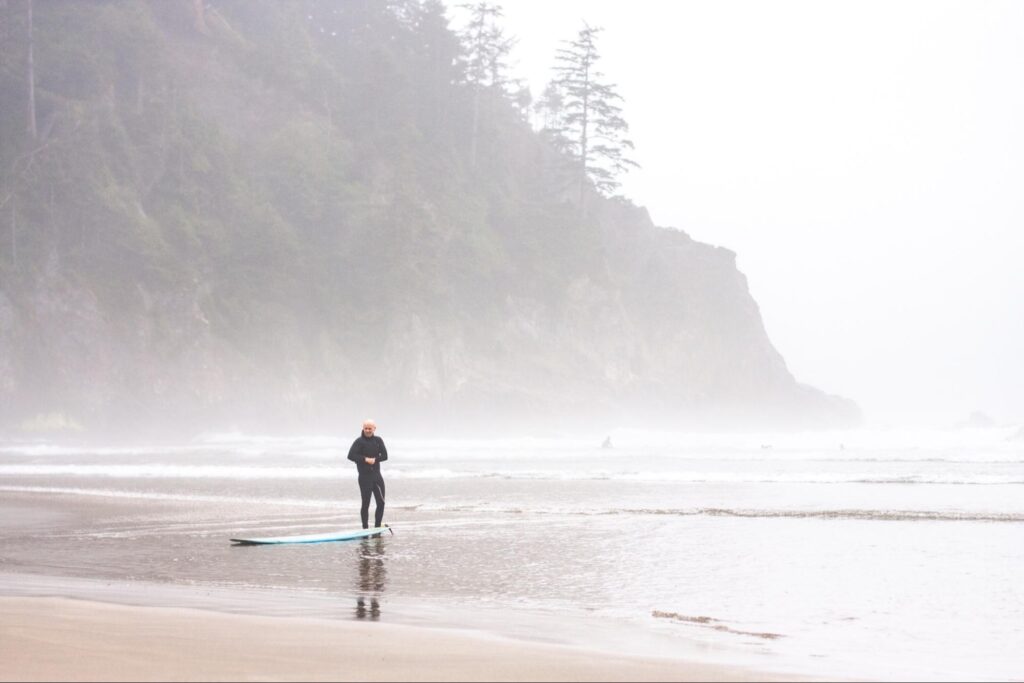 While it can produce some lovely surf, Tierra Del Mar's consistency isn't as reliable as some other spots, like Cape Kiwanda. It often needs a larger swell to get going, but when it's on, it can provide a great surfing experience. Tierra Del Mar is also surrounded by Oregon's characteristic coastal beauty, offering not just excellent surf but also a tranquil retreat. So if you're just accompanying a friend hitting the waves, you'll have a stunning setting to sit and watch. Its more remote nature means it's often less populated, contributing to a peaceful surfing experience where you can connect with nature.
Netarts Bay
A few miles south of Pacific City is Netarts Bay. While not as famous as Cape Kiwanda, it's a quieter option with some great surf. The waves are usually a bit smaller, making it ideal for beginners or those looking for a more relaxed surf session. The beach break at Netarts Bay is predominantly sandy, which can be more forgiving for beginners and those still refining their skills. The waves are typically smaller and less powerful than those at some other nearby locations, making it an excellent choice for beginners and intermediates. That said, it can still produce some satisfying long rides on good days.
Netarts Bay works best with a west to northwest swell and an incoming tide. When the conditions align, you can expect gentle, peel-off waves that are perfect for honing your longboarding skills or for beginners looking to catch their first green wave.
Keep in mind, while the bay's relatively sheltered location can offer calmer conditions, it also means the surf is dependent on larger swells and can be flat on days when other spots are working. Therefore, it's worth checking the surf report or getting local advice before heading out.
Besides the surfing, the bay is also known for its beautiful views and abundant wildlife, including seals and various bird species, making it a fantastic spot to enjoy nature's splendor. However, do be aware that it's a popular spot for clamming and fishing, so be mindful of other water users.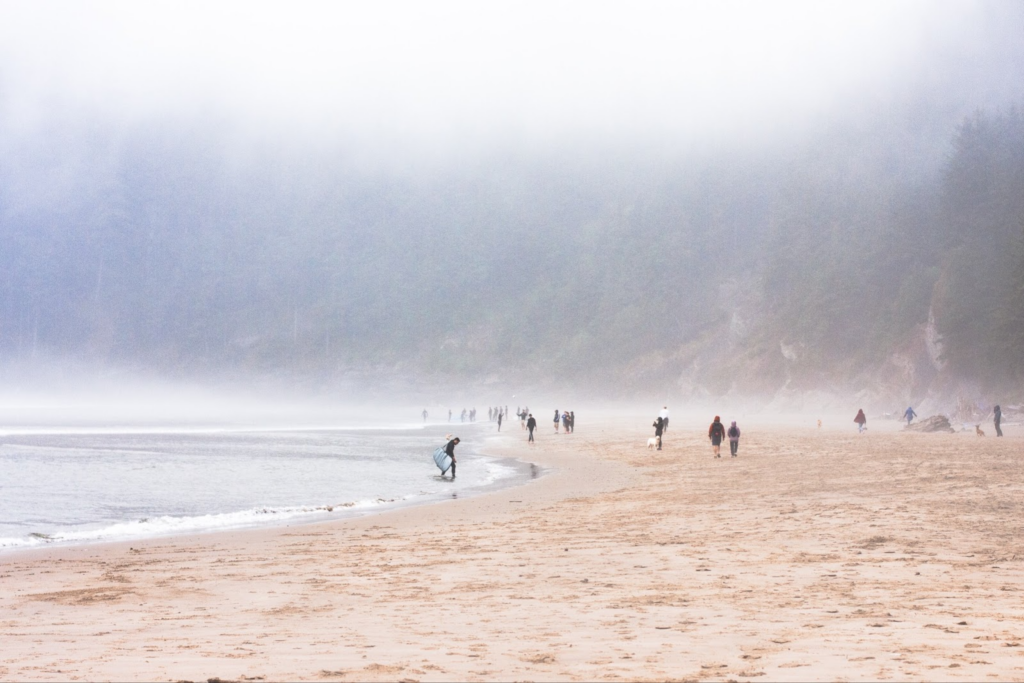 Short Sands
Located in the Oswald West State Park, Short Sands is a very popular beach for beginner surfers. The beach is located within smugglers cove, which remains protected from heavy weather, so the breaks are relatively consistent. And even if you don't surf, the beach itself is a beautiful place to spend an afternoon and soak up the sun and breathtaking views of the Pacific Ocean. However, the beach can become very crowded on summer weekends, but the vibe is generally friendly. If you are easily annoyed by beginner's hogging the good waves, a lesser known beach to surf would be best.
Neskowin Beach
A short drive south of Pacific City, Neskowin Beach is a beautiful, quiet beach break that caters to surfers of all skill levels. With a variety of peaks and a less crowded lineup, Neskowin is a great option for those looking to escape the hustle and bustle of Pacific City. The picturesque Proposal Rock adds an extra touch of magic to your surfing experience.
Beverly Beach
Located south of Pacific City, Beverly Beach is a great spot for intermediate surfers looking to hone their skills. The waves are powerful and fast, so be prepared for some intense rides. Beverly Beach State Park also boasts one of Oregon's largest creekside campgrounds, situated in a forest between Cape Foulweather and Yaquina Head. So why not turn your surfing trip to a camping trip, wake up right by the beach to catch the early morning waves.
Tips for Surfing in Pacific City
The waves vary considerably depending on the wind and tide, so always check the local surf forecast before heading out. The Oregon coast is known for its rapidly changing weather conditions, and being prepared will ensure a safe and enjoyable surf session.
Be mindful of the tides. Some spots are best surfed during specific tide conditions, so it's essential to time your session accordingly.
Respect the locals and the environment. Pacific City is a tight-knit community, and showing courtesy to fellow surfers and taking care of the beautiful surroundings will go a long way.
Surf's Up at Pacific City
It's clear why this coastal jewel has earned its nickname, 'A Surfer's Paradise'! Whether you're a thrill-seeker looking to conquer Gas Chambers or a novice eager to embrace the gentle waves of Tierra Del Mar, Pacific City has a wave with your name on it. Just remember – in this slice of paradise, it's not about who rides the biggest wave or performs the most tricks. It's about the salty smiles, the sunset sessions, and the memories made amidst the ocean's rhythm.
So, pack your wetsuit, wax up that board, and don't forget to set your watch to 'Surf Time'. Because in Pacific City, the waves are always calling, the surf is a way of life, and the ocean's allure is as endless as the horizon itself.
Check out our range of ocean view vacation rentals and be close to the action, See you in the lineup!
Commonly asked questions about surfing in Pacific City, Oregon
When is the best time to surf in Pacific City?
Autumn and winter typically offer the best surf conditions in Pacific City, with larger swells and offshore winds. However, summer can still offer fun, smaller waves that are great for beginners.
Is Pacific City suitable for beginner surfers?
Yes, spots like Tierra Del Mar and Netarts Bay offer smaller and more forgiving waves, making them excellent choices for beginners.
Do I need a wetsuit to surf in Pacific City?
Due to the cold Pacific Ocean temperatures, it's recommended to wear a wetsuit year-round when surfing in Pacific City. A thicker wetsuit (4/3mm or 5/4mm) is usually necessary, especially in the colder months.
Are there surf schools or surfboard rental services in Pacific City?
Yes, Pacific City has several surf schools offering lessons for all ages and skill levels, and multiple surf shops where you can rent surfboards and other necessary equipment.